Services such as Carbonite vs Google Drive make it easier for people to have a copy of their local files on the cloud. Google Drive is a leading name in file storage services, while Carbonite backs your files up on the cloud. Which one is perfect for you?
Main Differences Between Carbonite vs Google Drive
Here are some of the differences between Carbonite vs Google Drive
Carbonite offers a free trial, but it's the cheapest paid plan that will set you back $6, whereas Google Drive is free for the first 15 gigabytes, and you can buy more storage at very cheap rates.
Carbonite helps you with regulatory compliance by encrypting your files while it's being transmitted or stored, whereas Google Drive has some privacy issues.
Carbonite doesn't have a set of features like edit, view or store different file types, whereas Google Drive allows you to do that
Choosing between Google Drive and Carbonite will be a breeze if you have a clear view of what you need and what these two top services offer. Read on and learn how to best decide between these two.
What is Carbonite?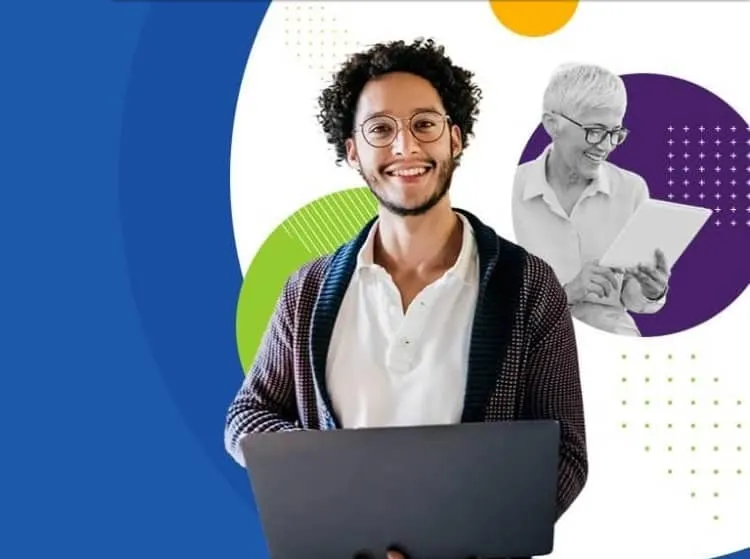 Carbonite is a file backup service. It gives you an automatic backup of your files straight to the cloud. The service's main draw is how straightforward it is, which might mean that it doesn't have a lot of other features.
What it does offer is what matters. For one, having a backup of your files ensures that you're safe against ransomware attacks. Carbonite generally protects Macs and PCs, but you can also choose to protect servers.
Office 365 Support
Aside from protecting the files in your computers and servers, Carbonite also offers backup for various Office 365 applications. This way, you have an easier time backing up and recovering individual files, folders, and everything that you have on the cloud.
If you find Microsoft 365 data loss protection lacking, Carbonite provides an easy way to plug these vulnerabilities. Data loss due to ransomware, hardware failure, and human error are no longer a big concern.
Carbonite gives you complete protection as well as rapid recovery. You can run automatic backups up to four times daily, and management is easier with a central management system.
Customer Service
Customer service, not surprisingly, is a vital part of any technology company. Carbonite doesn't fail in this area. The company boasts of a 91 percent customer satisfaction rating and keeps a team of more than 200 customer service agents.
The customer service is so good that they have received more than five dozen major awards in the last five years, including several Stevie Awards.
Compliance
Businesses, even small ones, will be instantly protected from regulatory issues. Carbonite offers support for different federal regulations, such as:
Health Insurance Portability and Accountability Act protects the personally identifiable information of patients. Leaking personal health information can lead to steep fines under this law.
Gramm–Leach–Bliley Act (GLBA) protects consumer financial information.
Family Educational Rights and Privacy Act is when you have a federally or publicly funded school or college as a client. FERPA protects the information of students everywhere, ensuring that unauthorized people do not access it but still be accessible to parents, administrators, and others with permission.
Carbonite allows you to store sensitive information using 128- or 256-bit encryption. All data transfers are made over secure SSL connections.
So if your business deals with clients in the healthcare, financial, and education industries, Carbonite provides an easy way for you to help them be compliant when your backups containing their information are being transmitted and stored securely.
Pricing
Carbonite gives you a suitable backup plan for whatever you need. If you only need to back up the files on your home computer, for instance, you can do so with a personal cloud plan that will cost you about $6 a month.
Because this is a personal account, it will not support FERPA, GLBA, and HIPAA. But you still get automatic backups, free customer support, remote access to your files, and 128-bit encryption.
For businesses, Carbonite has plans to protect every organization: from small businesses to mid-sized firms. They also offer server protection if you need it.
Here's a side-by-side comparison of Carbonite's business plans.
Plan
Basic Computer Backup
Advanced Endpoint Protection
Advanced Server Protection
Price
$24
$34
$147
Automatic cloud backup
Yes
Yes
Yes
Ransomware recovery
Yes
Yes
Yes
Protects PCs
Yes
Yes
No
Protects Macs
Yes
Yes
No
Other endpoint protection
No
No
Yes
Protects servers
No
No
Yes
Award-winning support, seven days/week
Yes
Yes
Yes
FERPA, GLBA & HIPAA support
Yes
Yes
Yes
256-bit Encryption
128-bit
Yes
Yes
Optional local backup
No
Yes
Yes
Supported systems
Windows and Mac
Windows and Mac

HP-UX
Hyper-V
IBM AIX
IBM iSeries
Linux
Oracle
Solaris
VMWare
Windows

Optional backup for Microsoft Office 365 applications
No
Yes
No
Supported Applications
None

Exchange
Groups
OneDrive
Planner
Public folders
Skype for Business
Teams

None
What You Should Know Before Getting Carbonite
Carbonite is more suited for those who need a backup solution than companies requiring their employees to retrieve files fast. According to the company, initial backups and complete restoration of files can take hours or days to complete.
The backup speed is affected by your Internet connection and your computer. If your computer has enough resources, you can expect a speedier backup time from it.
Carbonite has some tips on how to speed up your backups:
What Is Google Drive?
Google Drive can be categorized under cloud-based storage services, much like Dropbox is. But it offers so much more that we'd like to think of it as having another desktop on the cloud.
Features
First, you have the file storage service that allows you to access your documents, photos, spreadsheets, and other files from literally any device with an Internet connection. What's more, you can share these files and collaborate on them quickly.
Collaboration
Google Drive has its own productivity suite that includes Google Docs, Sheets, and Slides, among other applications. What's more, it has a range of cloud-native apps that you can use.
What's more, you can set your documents so that sharing a file with another person doesn't require them to download anything, and they can use the tools they are currently using.
Drive works with different file formats, so you don't need to convert these files anymore.
Artificial Intelligence
Search has always been Google's strong point, and it shows when you're using Google Drive. Unlike searching for files on your computer, searching on Drive is a lot faster.
This capability is made even faster with AI predicting what you're looking for so that search is easier.
Pricing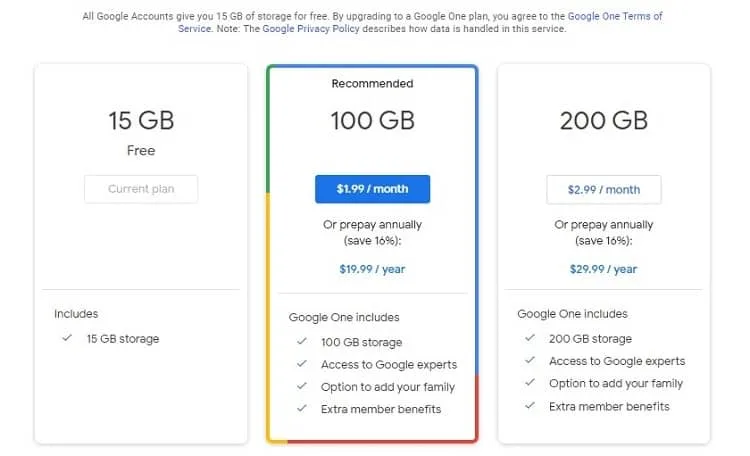 The beauty of Google is that using its services is free. A Google Account gives you 15 gigabytes of storage, but that's not only for Google Drive. The free allocation is shared by other services such as Gmail and Photos.
If you need more, you can get at least 100 gigabytes of storage. With Google One, you can get:
100 gigabytes: $1.99 / month
200 gigabytes: $2.99 / month
2 terabytes: $9.99 / month
10 terabytes: $99.99 / month
20 terabytes: $199.99 / month
30 terabytes: $299.99 / month
What You Should Know Before Deciding on Google Drive
You can use Google Drive as a backup tool, with the Backup & Sync application, which allows you to mirror every file you have on your computer to your Google Drive. But this can be problematic sometimes.
Further, Google does spy on your activities while using their services, and Google Drive is no exception. The search giant says that this is to help them serve you better ads.
Google Drive also doesn't allow you to put passwords on the files that you created on the platform. This situation can be a problem if a link is inadvertently shared with unauthorized people and they were able to access the file.
Google Drive or Carbonite: Which Should You Choose?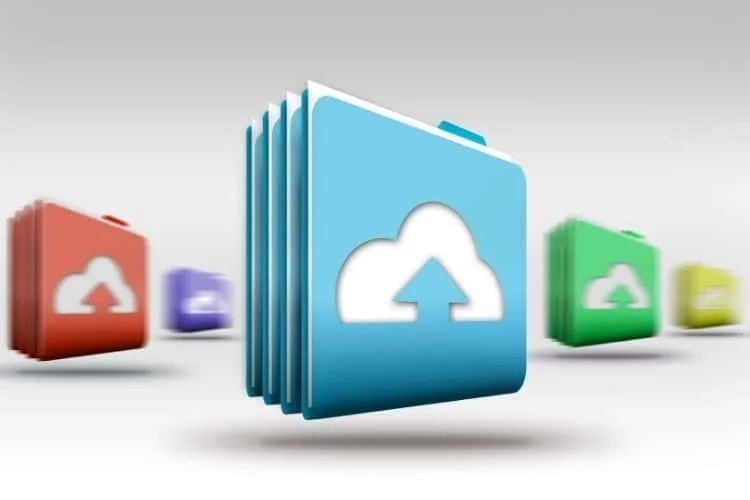 The thing is, when you compare these two services, it becomes pretty clear early on that they are very different products.
Carbonite offers backup and recovery services. You get secure transfer and storage for your files should you need it. You can restore these backups on your machine.
It's not really meant to create, edit, or share documents and files with other people. On the other hand, Google Drive gives you a lot of free space to store your files. Plus, it makes it easy to search and share these files. Collaboration is easy and quick on the platform.
One area where Google Drive fails is privacy. If you handle information that is meant to be confidential and private, then you should probably stay away from Google Drive.
So to answer the original question, which one should you choose? Most people will probably like the generous free storage that Google Drive offers, along with its easy-to-use productivity suite, compatibility with a wide range of file types, and accessible search features.
But if you're more into straight-up backup and recovery solutions, with a focus on privacy and security, then Carbonite is the best bet.
However, seeing how these two services bring different features to the table, you should consider using both services and get the best out of both worlds.
You can use Carbonite for classified data and use Google Drive for everything else. You can also use Carbonite to backup your Google Drive. The good news is that Carbonite is integrated with Google Drive, so all you need to do is to install Carbonite and the Google Drive app on your computer.
You can backup your Google Drive just with a couple of clicks. The complete procedure is described here.
Frequently Asked Questions
We know that you have a mountain of questions for us when it comes to Google Drive and Carbonite. We have the answers right here
Question: What's the difference between file storage and backup services?
Answer: Most people mistakenly think that backup and file storage services are the same. But while both allow you to keep a copy of your files on the cloud, there are some main differences.

• Cloud Backup allows you to restore files in an emergency or after losing your data. Meanwhile, cloud storage is more like an extension of your hard drive, allowing you to have another place to store, access, and edit files from any device
• Cloud storage will allow you to choose the files that you want to send them, while backup services automatically save your files and sync them.
• Cloud backup services give your files more importance, making sure that they are encrypted either while being sent or stored. Meanwhile, file storage services make it easier for you to share your files.
Question: What should I look for in a cloud backup and a cloud files storage service?
Answer: You should have several considerations when choosing a service that will get a copy of your files. These are:

• Storage: You should make sure that your chosen service will give you the right amount of storage you need for your files.
• Scalability: You should ensure that your chosen service is future-proof, allowing you to scale up or down. If you grow, you will understandably deal with more data and files to be stored or backed up, so choose a service that can grow with you.
• High availability: A cloud-based service should ideally be available every time you need it.
• Security: How safe is your data and files online? Your chosen service should be focused on security so that no third parties will be able to get the information you have.
• Pricing: Lastly, you should make sure that you are clear on the plans and subscriptions you're going to pay for. More than making sure that you can afford the service, you should be sure if you're getting what you need at the right price.
Question: Are there any alternatives to both Carbonite and Google drive?
Answer: The good news is that today's consumers can choose from quite a few exceptional backup and file storage services that you can get right now:

• Dropbox is one of the first cloud storage services there is. You have a local folder, and all the files in this folder are synced over to the cloud.
• Box gives you a way to store data on a secure platform. Like Google Drive, Box also offers several collaboration tools, create and share files. Plus, it works with more than a thousand software.
• SpiderOak One Backup is for those who want end-to-end encryption and backup service that puts more premium on security, then SpiderOak One Backup is for you. This service doesn't only store your files, but they also have a zero-knowledge policy that states that they will not be seen or read by anybody, even SpiderOak employees.
Conclusion
Google Drive is popular for both home and business users because it helps make things easier. From being able to store your files on the cloud to let you create and share documents, spreadsheets, and other types of files, it can easily cut down on the time you need to both back your files up and create them.
Carbonite is for those who like to have a backup of their computers and servers to quickly recover them when they need to. Carbonite is inherently focused on security and data privacy, so much so that your files are encrypted when they are transmitted or stored. This capability helps you to stay compliant with various regulations and laws.
There are no legal or technical reasons why you shouldn't use both, though.