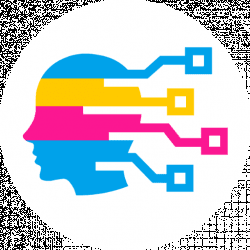 Latest posts by Digital Guyde Team
(see all)
Searching for a fully functional yet affordable online data backup service can be a truly challenging task. Although modern technology has brought internet users a lot of options for saving copies of their files in a remote storage system, there are still a few issues that need to be resolved in terms of providing an easy yet budget-friendly option. Business owners, employees, students, and all types of people need to back up their files and make sure they are secured from theft and other threats.
Carbonite is one of the most used online back up systems today. In 2005, two entrepreneurs who wanted to provide an easy-to-use and cost effective online storage system established Carbonite. At present, more than 20 billion files have been restored for Carbonite users from more than 100 countries. Carbonite also backs up more than 350 million files each day.
Although the company remotely operates as an online service for computer users, Carbonite is based in Massachusetts and has a functional customer support center that is located in Maine. Carbonite makes sure that their customers' files are kept securely, so they have put up data storage centers all over the United States instead of putting everything in one single location. This decreases the risk of losing everything due to natural calamities and uncontrollable disasters such as floods, earthquakes, fire and the like.
Top Features of Carbonite Backup
HOME PLANS
Carbonite provides data backup services to both households and businesses.
Personal plans, also considered as home plans, provide unlimited backup storage for a single computer for as low as $59.99 a year. Whether you are a family who loves storing photos and videos, or a work-at-home mom who wants to make sure all files are securely kept in another location, Carbonite personal plans are an affordable option. By simply installing the software on your computer, all your files are automatically backed up to a remote location.
BUSINESS PLANS
Unlike other cloud storage systems, Carbonite allows users to back up multiple computers and gadgets under their business plans. For $269.99 a year, the Basic Pro Plan lets you link an unlimited number of computers or external hard drives to the system and have your files backed up securely.
Pro Plan Plus costs $499.99 a year with 250 GB back up space available for an unlimited number of external hard drives; Windows file servers, or computers. Prime Pro Plan, which includes 500 GB total cloud storage space, also allows an unlimited number of computers and external hard drives. You can add 100 GB more storage to your plan by adding $99.99 per year.
Like the Personal plans, all you have to do is simply install the software onto every computer that needs to be backed up. You can easily manage everything from one central dashboard through the internet whether everyone is located in the same office or not.
BACK UP INCLUDING OPERATING SYSTEMS AND.EXE FILES
Server plans enable you to back up databases and applications, as well as operating systems and .exe files. However, these plans come at slightly higher costs, starting at $799.99 per year up to $999.99 per year. Additional storage costs $99.99.
UNLIMITED BACKUP STORAGE
Carbonite offers unlimited backup storage with various different plans for personal and business use which makes their total monthly cost truly practical and a good value.
BACKUP SCHEDULING
Carbonite enables users to set their own backup schedule based on their personal preferences. Whether you want to follow their schedule or have it custom-made, you can choose to have your files backed up automatically even when you are out of the house or away from the office.
DATA SECURITY and ENCRYPTION
Carbonite uses 128-bit Blowfish encryption to secure your files before they are sent to their data centers using an encrypted SSL channel. Once they arrive at the remote storage centers, files remain encrypted and are accessed only by providing essential login details. Anyone can choose to use Blowfish encryption keys or have their own keys generated at their own risk—meaning, once they forget their keys, they will not be able to access their files or restore them afterward.
FREE TRIAL: TEST IT FIRST!
They also offer free trials for 15 or 30 days (see free trial details here), depending on your preference. Once you have decided to take the full paid version, you can continue with your chosen plan and enjoy their services. Contracts depend on which one you choose, but just the same as other online backup services, they are automatically renewed once they expire unless you tell them not to do so.
PROS of CARBONITE
Multiple Price Points: Unlike other data backup systems offered on the internet, Carbonite allows its users to choose between personal and business plans at varying costs and with different features. This makes it a flexible and nicely customized option. You can check out more about the pricing here.
Free Trials: Their free trial enables prospective clients to try their services without having to pay the full price for a length of 15 or 30 days.
Flexible Backup Options: Carbonite also allows its users to back up operating systems and applications, as well as other file types other than photos, videos, and documents. This is one of the most positive features that Carbonite offers.
Scheduled Backups: Backup scheduling is likewise a very efficient feature that can be used in updating backed up files or backing up new files in a regular manner, without the need to click and choose individual files each time. Upload time is not bad—compared to other online storage services, Carbonite's upload speed does not leave you hanging around and waiting for hours just to upload a few megabytes into your cloud storage space.
Overall, Carbonite is easy to install, use and manage. The personal plans are offered at a very affordable price. New users will not have a hard time managing their Carbonite accounts because of the intuitive process that involves short and easy steps.
CONS of CARBONITE
Not Truly "Unlimited" Storage: There might be some problems when it comes to how Carbonite defines unlimited storage. Unlike what users expect, there is a limit on the storage space available for each user based on the average space used by all users in general.
No Monthly Payment Option: Additionally, although this might not be an issue with some customers, Carbonite only offers yearly plans and does not provide monthly options for users who want to use the service for a couple of months. After the 15 or 30 days free trial, everyone is tied down to a 1-year contract whether they will be using the service for the whole duration or not.
Business Option Has Limited Cloud Storage: Business plans are somewhat expensive, and yet offer limited cloud storage space. Additional space means additional costs. For start-up businesses, spending $299.99 a year may not be an ideal situation.
No File "Versioning": Lastly, Carbonite does not have file versioning features, which basically means that users cannot access and restore old versions of backed up files. Technically, they do not provide a full menu of recovery options which counts as one of the most important features an online backup system can have.
OVERALL VERDICT: Is Carbonite Worth It?
Carbonite is a friendly tool for households that want an easy backup storage solution without spending too much of their hard earned money. Work-at-home individuals may also benefit from the service, with its automatic back up the schedule that can be set according to one's liking. It is also a wise investment for businesses where files and documents play an important role in short-term and long-term developments.
Pricing Plans
You can check out the various pricing plans below. Depending on your needs, there should be something for everyone: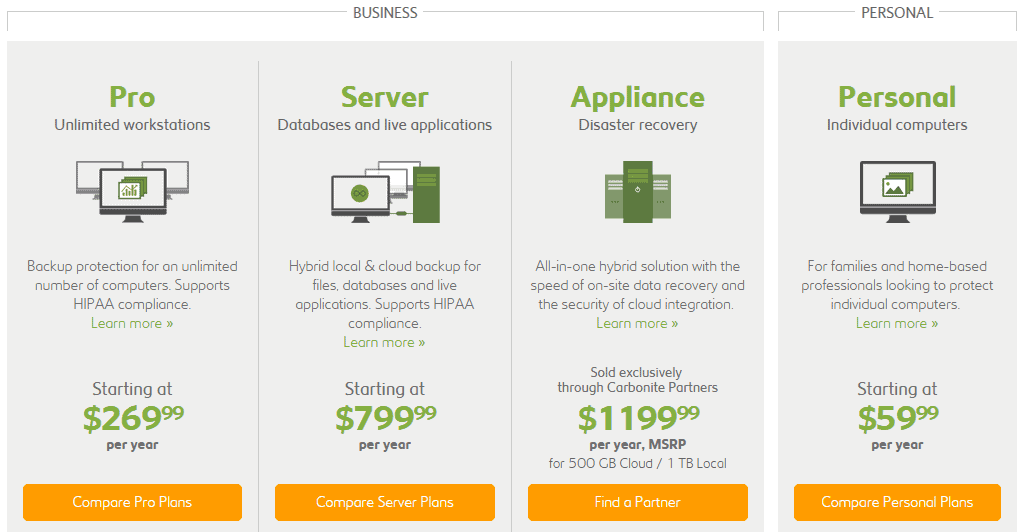 Carbonite
Pros
Ample Storage Space
Simple + Intuitive Setup
Excellent Customer Support
MAC Compatible
Has Mobile App
Cons
No Monthly Pricing Plan
No Syncing Ability (multiple devices)
MAC System Needs Improvement
No File