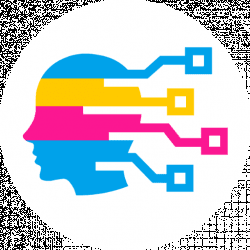 Latest posts by Digital Guyde Team
(see all)
Backing up your systems is no longer a question of "if". It's a requirement of the digital age we live in. Finding a good backup service is not a decision to be taken lightly.
The following Backblaze review is a result of over 3 months of use by Yours Truly.
A quick look at file storage history
Way before cloud storage and online data backup services were available, people had a hard time storing their data and keeping copies of important files, both hard and soft. It was not before 1953 until they were able to back-up their files using the first ever hard disk drive, which was continuously updated during the following years. At that time, an external hard disk was about three times the size of today's external hard drive.
Aside from being bulky, each drive had very limited memory capacity. Through the years, the external hard drive was developed further into a small and handy gadget, while its memory capacity was expanded exponentially for the storage of large volumes of files and documents. However, many people today face different problems regarding data storage.
There are risks, and a very real possibility of losing vital files due to hardware failure, viruses, and many other hazards which put important files, business documents and personal data in danger. This is where cloud storage comes in.
Backblaze has played an important role in providing a backup data service for those who want to keep their files in a place where they cannot be stolen, lost or damaged. If there is anything that truly allows unlimited online data storage, then Backblaze is definitely the real deal.
Anyone who wishes to keep copies of their files such as photos, videos, or documents, can instantly store them on Backblaze at a reasonable price. However, no system is perfect and there are always a few downsides to any product or service.
Top features of Backblaze That I Liked
Backblaze is one of the most popular online data backup services today. It allows unlimited file storage for as low as $5 a month. It is no wonder that through the years, Backblaze has received several awards that acknowledge the service for ease-of-use and many other features enjoyed by its end-users.
Affordable and easy to use
The best thing about Backblaze is its price—totally affordable at $5 per month (see here) for a single computer where Backblaze will be installed. You can also choose to pay annually at a lower price ($50 per year) or two years upfront at a much lower cost ($95 for every two years).
Just like any other online data storage service, Backblaze allows you to install its software onto your computer and will automatically back-up your files from your internal hard drive or any external storage connected to your computer. Additionally, users may access their files on the Backblaze website from any computer that is connected to the internet by simply entering their email address and chosen password. With a simple click, you can easily back-up your files into Backblaze's offsite data storage system.
If you are too busy to click every time you need to back-up a file, you can set the system to automatically save copies of your files onto their cloud server on a continuous basis or on a chosen schedule.
Easy file restoration
Users are allowed to restore their files, either one by one or everything at once, by simply downloading them as a zip file. The downloading period depends on the internet speed you have available. Once everything is downloaded, an email notification is sent to the user.
Those who are not comfortable with the method above may request to receive their files on a USB flash drive or external hard drive that will be sent via FedEx. Charges apply depending on the price of the storage system to be used. This a feature I really like as I find it convenient to have as many options as possible when trying to restore large amounts of data.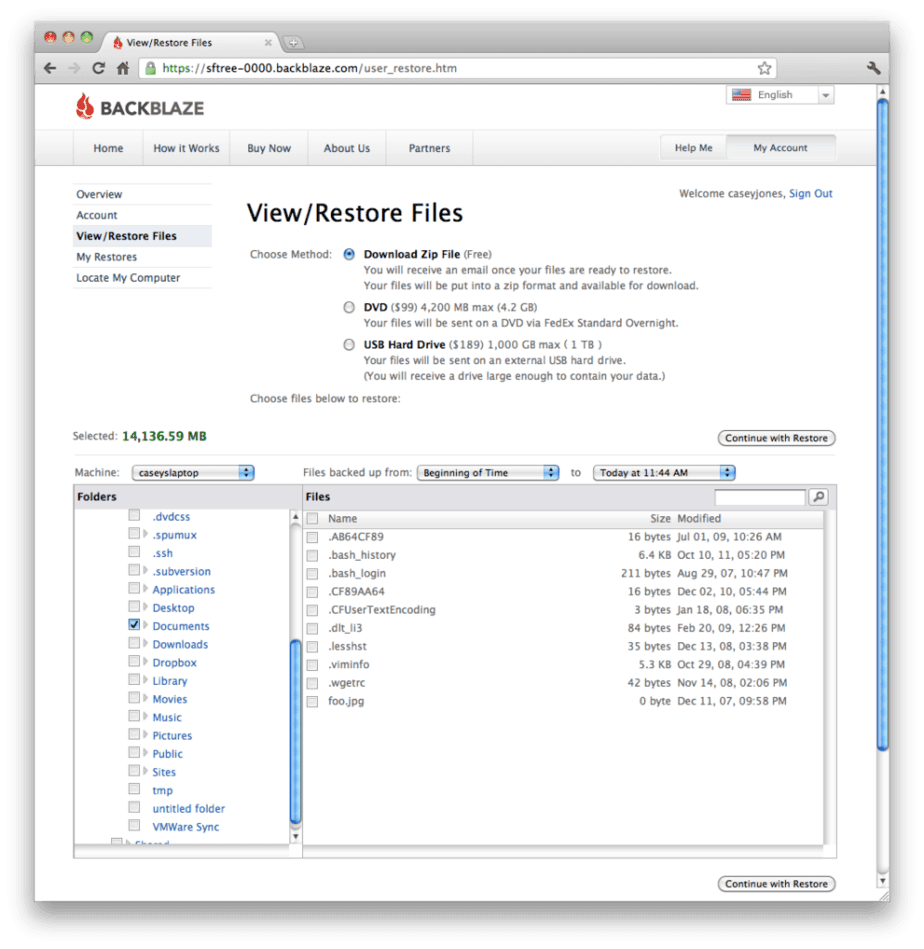 Unlimited space
Whether continuous or scheduled, backing up data with Backblaze can be adjusted according to the user's preference, without worrying about how much space is left. Backblaze offers unlimited storage options for personal use and for business use based on a flat fee basis.
Multiple file type back-up
All files, except operating systems, applications and temporary files are accepted by the Backblaze data storage system. This means you can store word documents, PDF files, music, photos, videos, powerpoint presentations, excel files, and many others that are regularly used by people every single day. Unless you are working with some really odd file types you won't have any issues with compatibility.
Encryption and secure connections
Once your files are uploaded to the system, they are compressed and encrypted using a high-grade encryption method. They are then sent to Backblaze's offsite storage through a secure SSL connection and stored safely, but still available should you need them. Personal and confidential files may be encrypted using custom-made keys that will ensure that your documents and files are kept away from hackers and scammers.
Pros of Using Backblaze
True to its promises, Backblaze provides its users with affordable and unlimited space for data backup. Budget-friendly costs vis-a-vis unlimited storage space make up the best feature that any Backblaze user will surely enjoy.
Backblaze also allows its users to restore their files using three options: 1) direct download, 2) USB flash drive or 3) external hard drive. The military-grade encryption using SSL connections are fundamental in protecting all files that are uploaded to their system.
Cons of Using Backblaze
While Backblaze attempts to provide many positive features to its users, their system is not perfect and there are a few things that could use a little improvement. The file restoration process, which is done via direct downloading, usually takes a fair amount of time depending on your internet connection speed.
Additionally, if you are not comfortable in working with zip files it could be confusing for an inexperienced user. Scheduled back up can cause performance issues with your computer if you do not have it scheduled for a time when you are not using your computer. Obviously, if the system is running an update to back up the most recent copy of your files then this will affect the speed of your PC while in process.
The simple solution is to schedule the back up at a time when you will not be using your computer but should be mentioned.
Final verdict: Is Backblaze Worth It?
Backblaze is a promising online backup system that easily captures the attention of users because of its truly affordable rates and unlimited space. Having unlimited storage space is getting more and more valuable and we tend to save more files on our computers these days as opposed to paper files.
Backblaze appears to offer solid customer service (full disclosure: I never had to actually use support), fair pricing and flexible service options that can be utilized by a wide array of computer users. They also offer a range of services for business platforms as well which gives their clients a full range of data storage options for all users.
Overall I would give Backblaze "two thumbs up" as I find their pricing really attractive. In the current environment where cell phone carriers and internet providers are starting to scale down the amount of data usage allowed, it is nice to have at least one provider that still offers unlimited use.
Hopefully, this Backblaze review has helped you make a decision. If you want more information about Backblaze data storage options you can visit their website and review the options to see which plan will work best for your personal situation.